Keeping fit and well-fed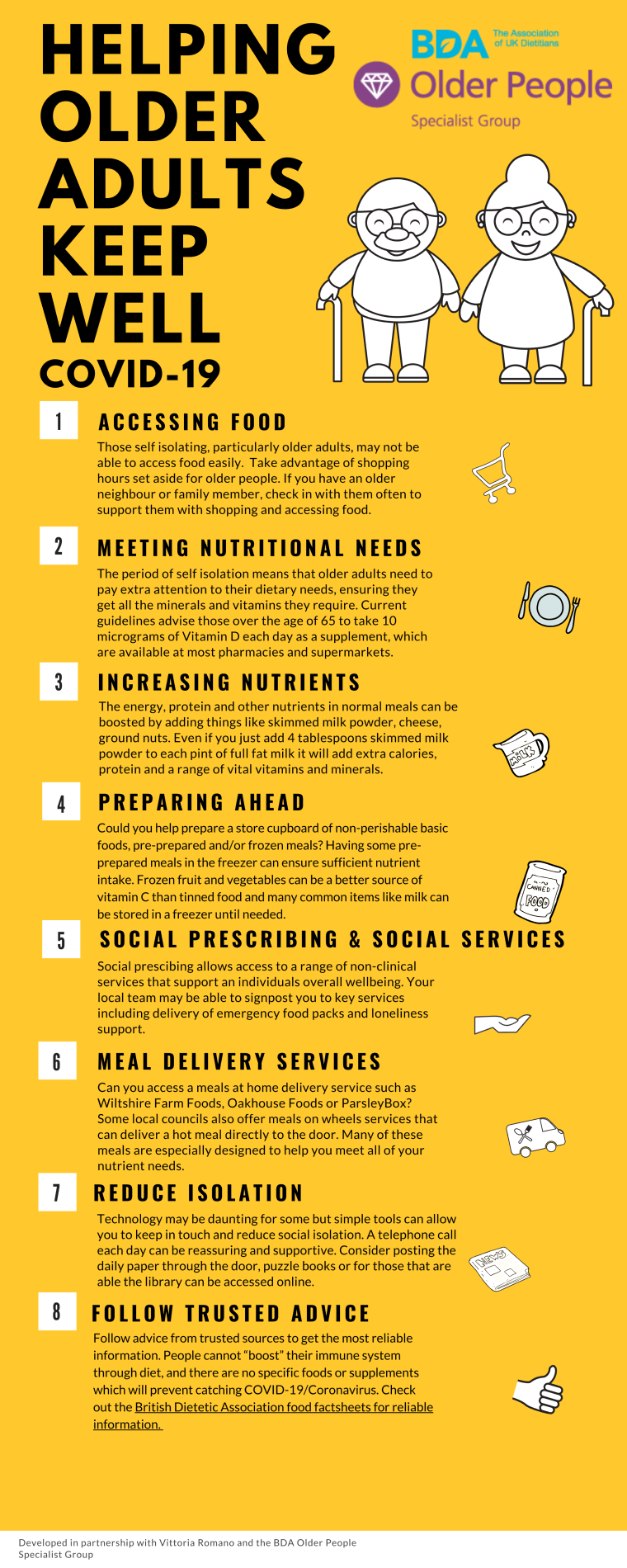 Easy home exercises to try
Break up long periods of sitting down Many of us are finding that we're sitting down for quite a lot of the day at the moment. It's a good habit to try and get up once an hour and stretch your legs a little. Even if it's just walking to the kitchen to put the kettle on, or doing the washing up, it all helps. But if you find standing difficult, just moving your arms and legs for a few minutes every hour will also help break up those long stretches of sitting.
Do some gentle stretching Stretching is a great way to keep supple, and doing it daily can also help improve flexibility and balance. You can even do it sitting or lying down. Try the following stretching exercise from Age UK:
Sit on a chair
Lift your leg up off the seat keeping your knee bent
Return to sitting position
Repeat with the other leg.
Try sitting exercises from your chair Sitting doesn't necessarily mean being inactive. There are actually quite a few exercises you can do from a sitting position. But make sure to choose a chair that is stable, solid and doesn't have wheels. And you should be able to sit with your feet flat on the floor and knees bent at right angles. Try this exercise from the NHS:
Sit upright with your feet flat on the floor, cross your arms and reach for your shoulders
Without moving your hips, turn your upper body to the left as far as is comfortable
Hold for five seconds
Repeat on the right side
Repeat five times on each side.
Improve your balance Better balance is key to reducing your chances of a fall, but you don't need to try anything tricky. The Chartered Society of Physiotherapy has six easy strength and balance exercises you can have a go at. The one-leg stand is a good example:
Stand close to a support (such as a chair) and hold it with one hand
Balance on one leg, keeping the support knee soft and your posture upright
Hold the position for 10 seconds
Repeat on the other leg.
To keep us entertained
National Gallery of Art, Washington, USA
The National Theatre (lots of videos and a full length play free every Thursday)
…Everybody loves a funny cat video!
Enjoy all, and keep well!
x